headspace


Bankstown
Ground Floor, Suite 1, 41-45 Rickard Road, Bankstown, New South Wales 2200

Phone (02) 9393 9669

Fax (02) 8367 5124
About
headspace Bankstown provides free information, support and services to young people aged 12-25, and their families and friends. We can help with mental health, general health, alcohol and other drug services as well as employment support. Simply phone or email to arrange an appointment with one of our staff.
Centre update: The health & wellbeing of our young people and their families is our top priority. In response to COVID-19 and minimising person-to-person contact, we are offering telehealth services. We are available during our business hours through telephone or email. We're here for you.
Service Provider Referral Form
Hours
Monday:

9:00am - 6:00pm

Tuesday:

9:00am - 6:00pm

Wednesday:

9:00am - 6:00pm

Thursday:

9:00am - 6:00pm

Friday:

9:00am - 5:00pm

Saturday:

9:00am - 3:00pm

Sunday:

Closed
headspace Bankstown is operated by Flourish Australia. All headspace services are funded by the Australian Government Department of Health. Administration of funding is carried out by the headspace centre's local Primary Health Network, in this case, South Western Sydney (South Western Sydney PHN).
Nutrition screening, dietary assessment and education about food and lifestyle, also support around healthy eating strategies.
Your GP can refer you to see a specialist youth psychiatrist for bulk billed assessment and management advice for mental health issues.
Mental health workers – which may include psychologists, psychiatrists, counsellors and other workers – that can help if you're just not feeling yourself.
Workers either on site or linked to the centre who can assist you with any alcohol or other drug concern.
A group of young people who help with events and some decision making at a centre. Ask your centre about getting involved.
Get tips on how to prepare your resume and present for interviews. Find out about local employment opportunities (full time, part-time, or casual).
Services could include: provision of contraception and advice, testing, support, treatment and management of sexually transmissible infections(STI) HIV/AIDS and viral hepatitis vaccination for Hepatitis and HPV, pregnancy testing and referral.
GPs can help with any physical health issues as well as issues related to sexual health, drug or alcohol use, relationship problems or feeling down or upset. Your centre may have a GP on site or links to one locally. 
Workers either on site or linked to the centre who can assist you with work or study opportunities. 
Centres have a range of programs and activities for young people. Just ask your centre what they have on. 
"As soon as I sought help, I suddenly realised that my anxiety was very treatable and that I wasn't alone."
- Charlie
Jobs and volunteering
Positions currently available at headspace Bankstown
Allied Health Professionals - start your ideal job in youth mental health today!
Looking for a variety of clinical practice in a collaborative team environment?
Want opportunities to learn, grow and thrive with professional development?
Ready to make a positive contribution to the lives of young people?
If you are looking for an opportunity to work with our collaborative multidisciplinary team to provide early intervention to young people, read on!
Join the team at headspace Castle Hill and/or Parramatta or Bankstown!
The following provides an understanding of headspace, its culture and how you can be part of the crew.
About Us:
headspace works from an early intervention framework with young people who have mental health issues or emerging issues. We deliver four core services which include general health, mental health support, vocational services, and alcohol and other drug services.
We are not just invested in young people, we are invested in providing opportunities for our team to learn, grow and thrive! Organised professional development, supervision and extracurricular activities bring our team closer, making our work environment inviting and inspiring!
headspace offers a busy and supportive team environment. As a contracted practitioner, you receive referrals from the headspace team and we will provide full comprehensive administration support. As a contracted practitioner you will be part of our very supportive team of clinicians and professionals.
About You:
Essential
Degree in Psychology, Social Work, Nursing, or Occupational Therapy.
Eligible for Medicare Provider Number
Current Full AHPRA registration (General or Clinical), or Accredited Mental Health Social Worker, or Mental Health accredited Nurse or relevant registration
Working with Children Check
National Police Check
Preferred
2+ years of post-graduate clinical experience within Mental Health
Proven recent clinical experience and competence undertaking bio-psychosocial assessments, risk assessments and providing focused psychological strategies
Sound knowledge of the impact of mental illness on young people and the ability to provide a positive impact on their wellbeing in a youth-friendly manner
Team player and flexible in your work schedule
Excellent clinical and communication skills
About the Role:
The primary objective of the position is to provide high-level clinical services to a broad range of individuals presenting with a variety of psychological difficulties and disorders.
Working with young people who present with mood, anxiety and a range of mental health conditions using evidence-based treatment strategies.
Participation in clinical decisions about treatment planning, assessment, risk management and working with other treatment services.
About the Pay:
We offer an hourly rate that is highly competitive, despite being a bulk billing service, which we achieve by only charging you a small percentage of your earnings for room hire and admin support. You also get access to free professional development opportunity and group supervision.
How to Apply:
If you are interested in being part of a multidisciplinary team where you feel valued, challenged and know that you are making a difference on a daily basis in each patient's outcome then we encourage you to submit your cover letter and resume with your availability via email.
We'd love to hear from you!
Contact Lucinda Spencer (Clinicial & Operations Manager) and send through your resume and cover letter.
Join our Family & Friends Reference Group
Applications are now open for our Family & Friends Reference Group!
The purpose of this Family & Friends reference group are:
Contribute to

the

quality improveme

nt and evaluation of our centre

Reduce stigma surrounding mental health and encourage early help seeking

Support

headspace Bankstown to

maintain a family-inclusive practice
More about what's involved:
The Family and Friends Reference Group is an opportunity to have your say and get involved with headspace

and the local community

As a Family and Friends Reference G

roup member

, you

will be

invited to

meet regularly

–

you will be offered the

option to attend the

se

meetings

in person,

online or via phone.

Your

participation

may

involve

reviewing documents, providing

your

feedback

about an existing service

and sharing

your thoughts and ideas

with us about new services.
Please read before applying - key role requirements:
You must reside in the local community at application, or be able to demonstrate a connection to the local community
You must have current or previous experience as a carer, family member or friend of a young person who has experienced mental ill health
If you're interested to join, have a read of our FAQs and complete our EOI form. Please return the completed EOI form to our email address.
More information
What is telehealth?
Although headspace generally provides in-person counselling support, due to COVID-19, and the current climate with physical distancing measures, to ensure we are able to still provide a service to young people, their families and friends, we are using a combination of telehealth and in-person services.
Telehealth services consist of any health-related communication via telephone and video conferencing platforms and applications. Instead of in-person appointments, we are now providing online appointments over phone calls and video calls using 'Zoom'.

To find out more about our telehealth services, such as:
How to use telehealth services

How to make the most of telehealth services

Confidentiality

Troubleshooting

Frequently Asked Questions
Please download - Guidelines for Young People to use Telehealth
You can download our factsheet for setting up a safe space at home to talk with your counsellor.


Feedback Survey
If you have used our telehealth services, and would like to provide some feedback on how it went and how we can improve, please fill out the survey here


Consent Form
If you are new to telehealth or would like further information on our privacy, consent, and confidentiality information, please download our Telehealth Privacy, Consent, Confidentiality & Cancellation Policy


For additional information on telehealth, please visit - headspace online and phone services (telehealth)
If you are having any questions or concerns with using our telehealth services, please contact us:
02 9393 9669 or headspace.bankstown@flourishaustralia.org.au
Young People
If you are a young person and wish to see someone at headspace Bankstown, you are welcome to email, call or drop in during our business hours to discuss your options. You can also check out our headspace Welcome Pack here, which has a bunch of info about the services we provide.

Parents, Family, Carers and Friends
If you are the family member, carer or friend of a young person and wish to refer them to headspace Bankstown, you are welcome to call us during our business hours to discuss their options. Please ensure that the young person who you are referring is willing to engage with headspace and is able to attend appointments.

Service Providers
If you are a service provider, health professional, or from a school and wish to refer a young person to headspace Bankstown, please complete our Service Provider Referral Form. Prior to completing the form, please ensure that you have obtained the young person's consent and provide as much information as possible so that headspace Bankstown's Intake Officer can determine the suitability and the most appropriate treatment options for the young person. headspace Bankstown will contact the young person and inform you thereafter of the outcome of your referral with us.
Please return this form by email to headspace.bankstown@flourishaustralia.org.au or fax (02) 8367 5124.
We recommend that you follow up the emailed or faxed referral with a phone call, just to make sure we've received it.
Our phone number is: (02) 9393 9669.

We welcome all feedback and suggestions regarding our referral process. If you'd like to fill out our feedback form, it can be found here.

Please note: headspace Bankstown does not offer crisis or emergency support. If you or someone you care for needs immediate emergency support, please call 000 (Police, Fire, Ambulance), go to a hospital emergency department or call the NSW Mental Health Line on 1800 011 511.
For after-hours services, please contact:
- eheadspace on 1800 650 890 or eheadspace.org.au (9am-1am, 7 days a week)
- The Kids Helpline on 1800 55 1800 (24/7)
- Lifeline on 13 11 14 (24/7)
- Mental Health Line 1800 011 511 (24/7)
we can help you get to where you want to go
Do you need help with looking for a job or job training?
Or support in starting a career? Or advice on study options?
No matter where you're at, headspace Work & Study is here to help you move forward. It doesn't matter who you are or where you live. If you're aged between 15-25, we're here for you. Everything is private and totally confidential. And there's absolutely no cost.
We have a team of friendly vocational specialists at our centre who will work closely with you towards your study and/or employment goals. And if you're not sure what your future goals look like, they can help with that too.
Ways we can help:
Explore different career paths
Building your confidence
Being your best in job interviews
Developing a tailored resume & cover letter
Spotting training opportunities
Navigating Centrelink
Ongoing support once you're working
Tell me how I can get involved?
Call or email us to find out more, or if you're already connected to our service, chat to your Youth Access Clinician. They can arrange a meet and greet with a vocational specialist. If you choose to participate in the program, an initial appointment will be arranged so you can start a vocational profile, job search activities or other goal-setting objectives to get you to your best future.
You can read more about headspace Work & Study here.
Our centre is located in the 'Bankstown City Capital Centre', which is directly across from Bankstown Central Shopping Centre, next to McDonald's on Rickard Road.
Our address is Suite 1, 41-45 Rickard Road, Bankstown. We are located on the ground floor straight down the footpath in the first photo, towards the right side. We are wheelchair accessible, and have a gender neutral bathroom.
If you're having a little trouble finding us, please call on 9393 9669, let reception know that you are unable to find the office and tell us your location and we can try and guide you to our office.

The front of our building complex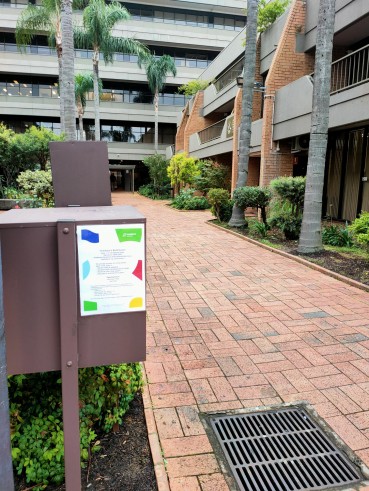 The walkway to our centre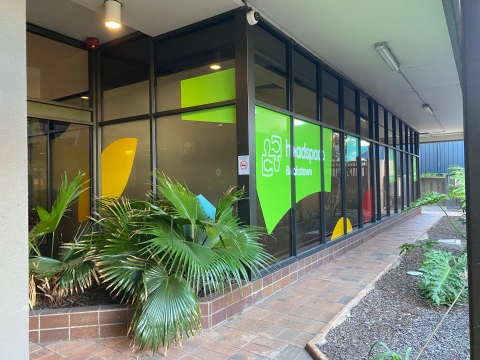 The front of our centre
Here at headspace Bankstown, it takes a bunch of wonderful and passionate people to complete our team and help support the young people that visit our centre.
Our Team Includes:
Aniela - Senior Clinical Manager headspace Services
Lucinda - Clinical and Operations Manager
Shannon - Clinical Lead
Mariah - Practice Manager
Anu - Administration Support Officer
Carmen - Administration Support Officer
Marwa - Service & Community Development Officer
Linda - Senior Youth Access Clinician
Emily - Senior Youth Access Clinician
Surleen - Senior Youth Access Clinician
Kimberly - Youth Access Clinician
Enrique - Youth Access Clinician
Chantell - Youth Access Clinician
Jolene - Alcohol & Drug Clinician
Ali - Alcohol & Drug Clinician
Danielle - Vocational Specialist
Adam - Vocational Coordinator
Raaniyah - Vocational Specialist
Tina - Vocational Specialist
Youth Reference Group

Private Practitioners (PP):
Dr Phil - Provisional Psychologist
Mariana - Registered Psychologist
Abby - Registered Psychologist
May-Lin - Accredited Mental Health Social Worker
Sussan - Registered Dietitian
Doctors:
Dr. Josephine - Psychiatrist
Dr. Jennifer - General Practitioner (GP)
Dr Erainia - General Practitioner (GP)
Contributing Consortium Members:
The Salvation Army (headFYRST)
South West Sydney Local Health District (SWS LHD)
Black Dog Institute
One Door Mental Health
Canterbury-Bankstown City Council
Lifeline Macarthur
Dokotela
ACON
Mission Australia
Arab Council
The REACH Foundation
WISE Employment
Beyond Blue (NewAccess)
BreakThru
Marrickville Legal Centre
headspace Bankstown provides youth mental health services to schools and the community in the Bankstown and Canterbury local area.
The Service & Community Development Officer is able to provide the following:
- Attend a mental health event and hold a stall
- Provide educational workshops on mental health topics
- Presentations about our service and referral pathways
- Promotional material, and
- In service tour where you are able to visit our centre, meet our staff and find out more about headspace Bankstown
The services provided have a health promotion and education focus.
We deliver these services to promote positive mental health and wellbeing (please note that these services do not have a medical or therapeutic focus).
Please download and fill out our SCD-Request-Form for any of the above services and return it to headspace.bankstown@flourishaustralia.org.au

Due to the current COVID-19 circumstances, requests are considered through delivery via online platforms.
For more information, please contact the Service & Community Development Officer at headspace Bankstown:
E: headspace.bankstown@flourishaustralia.org.au
P: (02) 9393 9669
At headspace Bankstown, we run clinical and non-clinical groups for young people as well as for their family & friends. They are all FREE of charge.
Our current and upcoming groups include:
Nourish Your Healthy Self:
A group for food, body image and recovery - join us for 10 weeks where we'll be covering 8 key concepts including emotional up skilling, value-based goal setting, nutrition education, and more! This group is open to young people aged 16+.
Begins Tuesday 26th July, 2022, 4pm-5:30pm.
Location: headspace Bankstown
Study Skills:
This group will cover burnout prevention, managing stress & expectations, individualised learning styles, how to optimise study and balance wellbeing, as well as other skills to help during exams and HSC, although can be utilised throughout life.
Begins Monday 1st August, 2022, 4:30pm-5:30pm.
Location: Bankstown Library - Community Room 1
Chilled:
Chilled is a structured, group session program aimed at treating anxiety in adolescents. It uses a cognitive behavioural approach, which means that it focuses on teaching skills to manage anxiety. Core skills include how to identify anxious thoughts, feelings and behaviours, discovering realistic thoughts and expectations (detective thinking) and gradually building independence and confidence by facing fears (stepladders).
This group is open to young people aged 12-17 years and runs for 7 consecutive weeks.
Begins Friday 28th October, 2022, 4:30pm-6:30pm.
Location: headspace Bankstown
IGNITE:
Partnering with The Reach Foundation, Ignite is a program for young people to experience a unique youth-led environment that encourages them to challenge themselves, connect to others and grow their self-awareness and resilience.
This program will run over 2 days and is open to young people aged 13-17 years.
When: Wednesday 4th and Thursday 5th October, 2022, from 10am-2:30pm.
Location: Bryan Brown Theatre
If you are interested in any of the groups listed above, please complete our Expression of Interest (EOI) form linked here. You will be contacted to provide confirmation of your spot within the groups you select interest in, as well as further participation information closer to the dates.
LGBTQIA+ Youth Group
This is a social group, where young people aged 16-25 are welcome in a safe and inclusive space to connect with others who are also a part of the LGBTQIA+ community. It is a closed, private group where confidentiality is held at all times.
If you'd like to join, please complete our EOI form here. You will be contacted to confirm your membership within the group and for further participation information.
If you would like more info, please contact us on (02) 9393 9669 or email us at headspace.bankstown@flourishaustralia.org.au.
Other Services
We also currently offer other services in support of our headspace core streams, including:
Family therapy
Dietetics services
Sexual health checks and STI testing
Have a chat to one of our friendly staff to learn more about these additional supports.
Did you know that we have youth-friendly General Practitioners (GP)?

You can choose to see Dr. Jennifer Martinez or Dr. Erainia Wu. Please call (02) 9393 9669 to confirm availability if you would like to book an appointment.
We use bulk-billing arrangements through Medicare so when you visit and use our services, it will not cost you anything.
Learn how to get your own Medicare card by clicking on our 'How to Get Your Own Medicare Card' tab on our website (underneath the 'Our GP' tab).

For a factsheet on how to get help from a GP, as well as other information, you can access it here.
How do I get my own Medicare card?
Young people 15+ years old can get their own Medicare card by heading online to the Service Australia Medicare page linked here. Enquiries and other Medicare card related requests can also be made by visiting them at the nearest office or by calling Medicare on 132 011.
This fact sheet and road map explains why young people may need their own Medicare card, and which option and pathway to take for getting their own Medicare card that will suit their needs under difference circumstances.
Do you have any praise, suggestions and feedback about headspace Bankstown's services or centre?
We'd love to hear your ideas about headspace Bankstown.
You can do this by filling out a quick survey below. It is private and confidential so you don't have to leave your details, however, if you would like to receive a response from from us, please leave your contact details in the last section of the survey.
This is a way for you to have your say about headspace Bankstown.
Access our Praise, Suggestion & Feedback survey here.