fundraise for us
Become a #headspacehero by raising important funds to support the mental health and wellbeing of young people in Australia.
Funds raised for headspace through fundraising and donations help us achieve our vision – that all young Australians are supported to be mentally healthy and engaged in their communities. Find out more about how your support makes a difference.
Thank you for choosing to support headspace!
Create your own event
Create something fun, challenging or innovative in support of headspace! Our community of #headspaceheroes have completed ultra-endurance bike rides, held virtual music festivals, run gaming events via Twitch, and even shaved their heads to support the work we do. Our fundraising team can help you get started, just fill in the application form via the button below and we will be in touch.
Join an event
There are so many fantastic physical challenge events around Australia you can participate in and raise funds and awareness for headspace. Many of our community fundraisers choose to take part in a run or walk such as, The Sun Herald City2Surf, The Melbourne Marathon, HBF Run for a Reason, Bridge to Brisbane, Sydney Running Festival or City Bay Fun Run. You can register and set up your headspace fundraising page directly through these event websites.
School fundraising
Fundraising at school is a great way to get involved with headspace and help improve mental health literacy within your school community. Schools support us in lots of different ways, for example holding bake sales, movie nights, fetes or plain clothes days. To get started, please apply to fundraise using the apply now button.
Business, corporate and workplace fundraising
If you're a business or workplace wanting to support the mental health of young Australians, find out more about how you can become a headspace business supporter.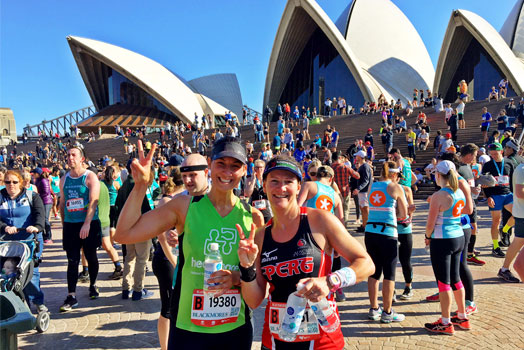 Fundraising for a headspace centre
You can also support the work of your local headspace centre by raising funds. Please contact your local centre and ask to speak to the Centre Manager or Community Awareness Staff.
Step 1: Decide on your activity
There are many different fundraising event ideas out there. You could host a trivia night, organise a 'headspace green' dress day, or participate in a fun run or physical challenge.
You might also consider getting your friends or colleagues together and fundraising as a team. This can be a great way to boost motivation and help you raise even more money.
Step 2: Read through our fundraising guidelines
Read up on your state's relevant fundraising laws and legislations of your state. You can find our guidelines here: ACT, NSW, NT, QLD, SA, TAS, VIC, WA

Step 3: Fill out a headspace fundraising application
The next step is to complete a headspace fundraising application. This will include a few questions about your event or activity.
Once you submit your application, it will go through the approvals process at headspace, which usually takes three business days.


Step 4: Set up your online fundraising page
One of the best ways to share your fundraising event with your friends and family is to set up an online fundraising page. You can use a platform that allows you to do this for free, such as My Cause or GoFundMe. This is the easiest way to run a fundraising event as your donors will be receipted automatically.
When setting up the page you just need to select headspace National Youth Mental Health Foundation as your charity of choice. All funds raised through the page will then be transferred directly to headspace, which means you won't have to worry about money collection.
It's a good idea to keep people updated on your progress by sharing regular pictures and updates along the way. This will keep them engaged and may inspire people to give more because of all the effort you're putting in.


Step 5: Get the word out there
Once your fundraising page is set up and you're ready to go, it's time to start promoting your fundraising efforts. Sharing on social media is a great way to let your friends and family know you are raising funds for headspace. Be sure to tag @headspace_aus! 
Can I fundraise or donate to my local headspace centre instead of headspace National?
Yes. If you would like to raise funds for your local headspace centre, please contact them directly.

Can I make a donation instead of fundraising?
Yes, you can donate to headspace using our secure online portal or by contacting us at fundraising@headspace.org.au. Every dollar helps us reach more young people and all donations over $2 are tax deductible.

Do I have to tell headspace about your fundraising, or can I just donate the money raised?
It's a legal requirement that everyone conducting fundraising must obtain an authority to fundraise from their nominated charity. Simply send us your completed headspace application form or contact us at fundraising@headspace.org.au.
Please note headspace reserves the right to reject any fundraising activity or donation that does not align with our values.

Can I use the headspace logo for my fundraising event?
Yes. headspace will provide you with our supporter logo for you to use to promote your event. Please send through a completed headspace application form or contact us at fundraising@headspace.org.au to register your fundraiser, and we can provide this for you. Any events using our logo must have approval from our fundraising team.

Can someone from headspace make a presentation at my fundraising event?
Requests for headspace staff to attend fundraising events are decided on a case-by-case basis. The headspace fundraising team is available to answer any questions you have regarding your event and offer advice and encouragement.

Will headspace provide insurance for my event?
No. headspace will not be able to provide public liability insurance for your fundraising activity. It's up to you to decide whether you need insurance to cover your fundraising event to protect yourself and your supporters. We suggest you hold your event at a venue that's already covered by public liability insurance.

Do I need a gaming license to hold a raffle of competitions?
That depends on the state or territory you're holding a raffle in – each state and territory has laws relating to fundraising activity. It's your responsibility to understand these laws and make sure your fundraiser is following your state/territory's legislation.

Are donations made to headspace at my event tax deductible?
Donations are tax deductible when:
A donor receives nothing in return for their donations. For example, donations made on our fundraising page
The donation is more than $2
Donations are not tax deductible when a donor receives a benefit from their donations. For example, raffle tickets, event tickets, items or food. If you would like to find out more information about tax deductible donations, please contact us or visit the Australian Charities and Not-for-profits Commission(ACNC) website.


Contact us
Our team is here to help you with your fundraiser and answer any questions you may have. Please get in touch with us by emailing fundraising@headspace.org.au.