stef 'shuts up' for headspace
Content warning: This post contains information about suicide, which may be distressing for readers. If you, or someone you know is going through a tough time contact your nearest headspace centre.
I was a young teenager when my father suicided. At the time I had a younger brother and sister (8 and 7), and instantly felt like I had to grow up to take care of them. I suffered from depression at an age where teenagers are trying to discover who they are. I self-harmed and thought a lot about suicide.
As time went past, I got better. I got through that turbulent time of my life and started to grow again. I never forgot Dad, and still suffered from depression, but I learnt how to keep going with life and enjoy it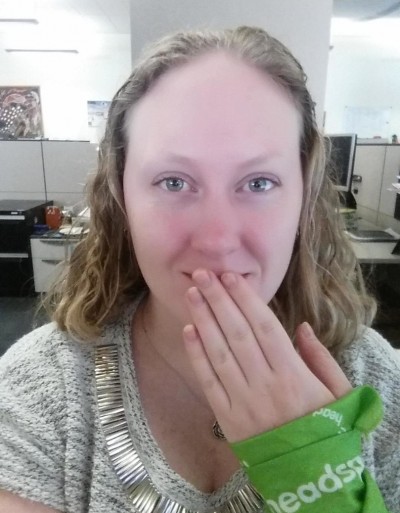 10 years later, in late September 2012, a colleague suicided. No-one expected it, and it hit me really hard. I knew then I needed to do something, needed to use the life I still have to make a difference. I decided that I would be silent for 24 hours on World Mental Health Day (10 Oct) 'to raise the volume on mental health'. It was important for me to be able to do something.
Following this, two weeks later, my little sister suicided at age 17. We didn't see it coming, we didn't know. She didn't reach out to anyone. It's been almost five years since that happened and I'm still shaking while I write those words.
My mum has now developed severe post-traumatic stress disorder (PTSD), which makes every day a battle. This has been a massive challenge for me – trying to help mum while also looking after myself.
I still live with depression, and have been diagnosed with Major Depressive Disorder, which in my family's case, has a genetic component. I don't let it define me. My resilience probably defines me. People say I'm strong, how brave I am, but it's never been about that. It's been about getting one foot in front of the other, and never letting suicide be an option
Six years after my first silent day and I'm still going. I've raised over $15,000 for headspace in that time. I went through so much when I was a young adult, and I never really took advantage of the support that was there. Then my sister, she didn't reach out to anyone, just kept it bottled up. I do this for every young adult. If you're worried about seeking help, about being a burden, or a cost – don't. I've already covered the cost. Just reach out and speak up.
Something I would remind my younger self would be, that you don't have to have it all figured out. You don't have to deal with it all yourself. Counsellors, psychologists, it may seem so corny (I know I thought that), but it really does help to have a safe person, a safe space where you can just let it all go.
Thanks for reading,
Stef
Published 13 October 2017
How useful was this page?