anna flanagan, shares why she's supporting headspace day
I was brought up in a sporting family, and was born-and-bred to play for Australia! I always exceeded in hockey and identified nationally to play when I was 14. I had a rapid rise to the top, debuting at 18, fulfilling a lifetime dream. I always wanted to be the best in the world, and I put immense pressure on myself to be perfect.
When I was younger I struggled on-and-off with eating disorders, whereby my diet controlled all facets of my life. My quest to be the perfect athlete also led to my experiences of depression. When I had setbacks, I felt like I would never achieve what I should and that maybe I was actually going to fail. Through studying and playing hockey I had life-balance – if one area failed, I still had other things in my life to fall back on.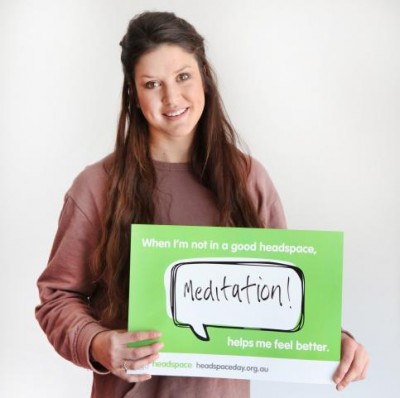 I was reaching the top in hockey, and my profile had exploded on the hockey scene. Now being recognised I was getting these amazing opportunities – but on the flipside, I was being constantly judged. When I started to struggle with hockey, and an unhealthy environment, my depression took over. I looked for quick-fixes to make me feel better, and ultimately withdrew from everyone. I hit a low when I was caught drink-driving, not from doing anything outrageous, just having dinner with friends. Either way, it was an error of judgement.
The next three months were some of the darkest of my life. I had no one to talk to, no one who I could share my demons with, and I struggled to get out of bed each day. It wasn't until the end of the year that I stepped back, left the environment that was causing me pain, and began a journey of health and happiness.
Although I made errors, I knew I valued kindness beyond anything and that it was time to reach out and talk about some of the things that made my life hard. Being in the public eye and battling with depression was difficult, as I tried to hide it and pretend I was OK. I didn't want to let anyone down, and by doing so at the start of the year I didn't know how I could go on. But sharing my story and searching for positivity has put me in a position to once again chase those dreams that I had as a kid. I am stronger because I know I am not alone, I do not have to be embarrassed, and I search for positive vibes in all things in life!
To help with my mental health and wellbeing, I train almost every day and this makes me feel fresh and healthy. I see a psychologist who helps me with my doubts and gives me techniques to deal with these. I find meditation and breathing really useful. As well as eating a healthy diet. Feeling good from the inside out is so important.
Thanks for reading,
Anna, 25
Published 8 October 2017
What is something most people don't know about you?
I love animals, and have recently become vegetarian
You've won a number of awards over the years, what are some of your standouts?
2 Commonwealth Games gold medals

Young World player of the year

World Cup silver medallist

Best Hockeyroo at the World Cup, second best in the world

Olympian/Olympic reserve
What has been your greatest achievement so far?
Inspiring young people to follow their dreams!
What's been the biggest challenge you've faced, and how did you overcome this?
Telling people that actually, I might not be ok. Through this I had tremendous support to look at the root of my negative thinking, and change it to one of positivity. I overcame not feeling good enough by accepting who I was and what I valued in people.
Is there a piece of advice you would give your younger self?
That being myself is enough! Who I am is unique and I don't need to impress others. Everyone goes through struggles in life and there are safe places to open up that show a way forward, when it seems like there is no light ahead!
How useful was this page?